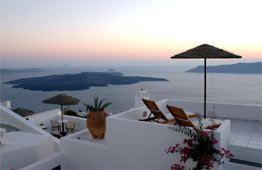 Cliffside Suites (ex Grotto) **** consist of individual houses built in traditional island style, on the cliffs, facing the sea and the volcano. It is located at Firostefani, just 10minutes walking distance from the center of Fira, the capital of Santorini.
It is a complex of 23 houses some authentic cave houses (7 in total) were bought by their current owner, Mr. Jiannis, originally from Switzerland, who fell in love with the island and the people.
All of them overlook the splendid Caldera.