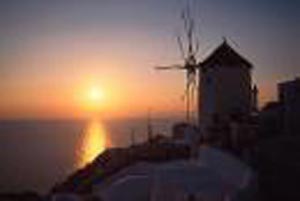 Santorini is one of the most unique, beautiful and romantic places on earth. Created by a volcano, the spectacular rim of the caldera will provide endless hours of contemplation and romance as you gaze at the view while relaxing on your hotel veranda or strolling through the alleyways between the brilliant white buildings of the villages, teetering on the edge of the cliffs.

Santorini owes its dramatic beauty to volcanic eruptions and geological upheavals, which have left their mark everywhere. Black beaches, precipitous cliffs surrounding the caldera and twisted colourful rocks give the island a distinctive quality that set it apart from its neighbours.
What was once the island of Thira sank to the bottom of the caldera in an apocalyptic explosion in 1450BC. The lagoon-like caldera measures some 45 sq.kms and is 300 to 400 meters deep. In the centre are the two small islands that make up the peak of the volcano - Palea Kameni and Nea Kameni upon which are hot mud springs and fantastic rock formations.
Santorini island itself covers an area of around 96sq.kms, it is positioned some 130 nautical miles from Piraeus (Athens main port) between the islands of Ios and Anafi.
Its 7,000 permanent inhabitants are scattered amongst Santorini's several villages, of which the largest is the capital Fira - a tourist area famous for its donkey rides and cable car as much as for its beautiful views of the caldera and the sunset. Just outside Fira are the villages of Firostefani and Imerovigli with the same magnificent views but a more traditional feel. To the south is romantic Oia where the view of the famous Santorini sunset is said to be the best on the island.About Akrotiri...

© 2001 -2005 www.maps-of-greece.com