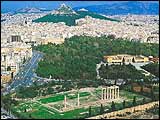 Athens, the capital of Greece is the city of the Olympic Idea, the city of culture, of science and commerce. A city with ancient monuments like Acropolis, the inimitable ancient monument and landmark of Greece, museums, lively tradition districts like Plaka and numerous sights. These are some of the reasons that make Athens worth visiting.

The Acropolis hill


This unique monument, which represents the ultimate in architectural and artistic expression of the ancient Athenian spirit, occupies a rock 156m above sea level, which is itself a natural fortress. During the Classical period (450-330 BC) the most important temples were erected. It acquired its first temple in the 8th c. BC. Building started on the Parthenon itself, dedicated to Athena Parthenos, in the early 5th c BC only to be razed by the Persians in 480. It was rebuilt during Pericles' rule in just ten years. Greek Goddess Athena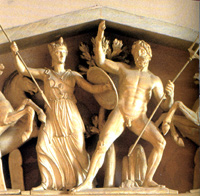 The monumental entrance to the summit of the holy rock, the Propylaia, designed by Mnesicles, was under construction form 437 to 432 BC. The Erechtheion, dedicated to Athena Polias, was completed twelve years later. Pheidias supervised these brilliant architectural and artistic achievements of the 5th c BC, while the designs were the work of Iktinos and Kalllikrates. The foundations of the temple of Athena Nike, dedicated to Athena –Apteros Nike, were also laid at this time.

Temples of Acropolis


The Parthenon: It is the most important and characteristic monument of the ancient Greek civilization and still remains its international symbol. It was dedicated to Athena Parthenos, the patron goddess of Athens. It was built between 447 and 432 BC, to plans of Iktinos and Kalikrates while Pheidias and his pupils had charge of general constructional supervision and of the decorative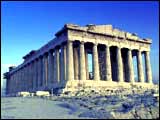 carvings. It was the first time that a peripheral temple in the Doric style was decorated all round with a sculptured frieze 160 meters long, illustrating the Panathenaean Procession (the most formal religious festival of ancient Athens). The 92 metopes were also sculptured with reliefs representing a battle with giants, a battle with amazons, battles with centaurs and scenes from the Trojan War. The gold and ivory statue of the goddess Athena, the work of Pheidias was set up in the interior. When construction of the temple had been completed, the pedimental sculptures were added. The two pediments of the temple are decorated with mythological scenes: the east, above the building's main entrance, shows the birth of Athena, and the west, the fight between Athena and Poseidon for the name of the city of Athens.
The Erechthrio: It was build during the Peloponnesian War (420 BC) by Philocles. The main temple was divided into two sections, dedicated to the worship of the two principal gods of Attica, Athena and Poseidon – Erechteus, from whom it got its name. Six female statues, the famous Karyatids, with canisters on their heads as column capitals, support the roof of the temple. Today five copies stand in their place. The originals are in the Acropolis Museum (the sixth Caryatid can only be seen in London).
Temple of Apteros Nike: It was constructed in ca. 420 BC, by architect Kallikrates. The temple is built in Ionic order, and it is amphiprostyle with a row of four columns in front of each of its narrow sides. The relief frieze on the upper section of the walls depicts the conference of gods on the east side, and scenes from battles on the other three. A marble parapet decorated with the relief representation of Nike (Victories), protected the edge of the Bastion on which the temple was erected. Athenians placed a statue of Nike without wings to ensure that she would never "fly" away from their city. Today the statue can be seen in the Acropolis Museum.
The Propylaia. The monumental entrance to the Acropolis was designed by the architect Mnesicles and constructed in 437-432 B.C. It consists of a central structure with two wings. The colonnades along the west and east sides had a row of Doric columns while two rows of Ionic columns divided the central corridor into three parts. The walls of the north wing were decorated with painted panels or wall paintings and that is why it was called the "Pinakotheque". The ceiling of the Propylaia had coffers with painted decoration and a perforated sima around the roof. The Shrine of Zeus Very little is left of this temple dedicated to Zeus Polios, to whom sacrifices, the Bouphonia, were brought every summer during the harvest season.
The Acropolis Museum The museum was designed by the architect Panages Kalkos and constructed between 1865 and 1874. In the 1950's it was extended towards the east and the exhibition was rearranged by the archaeologist I. Meliades. The museum contains mainly pedimental sculpture, reliefs and statues found on the rock of the Acropolis, which formed part of the decoration of its buildings or were dedicated to the goddess Athena. The collections of the museum include: · Sculptural offerings of the Archaic period · Pediments of temples dated to the Archaic period · Archaic Horsemen · Sculptures of the "Severe" style · Pediments and metopes from the Parthenon · The Parthenon frieze · The Erechtheion frieze · Parapets of the Athena Nike temple · Frieze of the Athena Nike temple · The Caryatids · Clay figurines and vases from the sanctuary of the Nymphs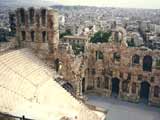 Theatre of Herod Atticus (The Herodion): Erected in 161BC by the Athenian orator and benefactor whose name it commemorates. It can seat 5.000 spectators but most of its marble seats, except for those in the front row, are modern restorations. It hosts all the events of the Athens Festival, as well as a few other concerts and performs throughout the summer.
Stoa of Eumenes: Constructed in the 2nd c BC, it took its name from the king of Pergamon, Eumenes II, who paid for it. Only its foundations remain, but Athenians used to stroll and discuss in the shade of this 163m long arcade.
Theatre of Dionysos: This theatre, which occupies the site of an earlier sanctuary of Dionysos Eleuthereos, is considered to be the oldest yet discovered. Of the original 5th c. BC structure, only the orchestra remains. The movable stage and seats were of wood. It was here that the great dramas of the Golden Age had their first performances. The stone seats were added in the 4th c. BC. Measuring 100m in width, 90m in depth and possessing 78 rows of seats, of which only two-thirds are extant, the theatre underwent many alterations before it reached its final form.
Odeon of Pericles: Completed in 443 BC. Its foundations have been only partly excavated. This roofed building with columns was used as a concert hall.

National Archaeological Museum


The Museum displays finds from all parts of the ancient Greek world, which date from Neo-lithic times to the last years of the Roman Empire.
The Prehistoric collection (7000 - 1100 BC) Includes prehistoric collection from Thessaly, mainly clay idols and ceramics. Exhibits from the Cyclades islands with such statuettes as the marble figure of a naked woman, the Flute and the Lyre-player and the frescoes from Milos. And last but not least finds from the Mycenaean period treasures from royal tombs, including the gold death masks, jewellery, weapons, ceramics and miniatures.
The collection from the Historic period Sculpture ceramics but also a variety of miniature arts, coins and gold objects make up the main branch of this period's art.
Ceramics: There is pottery, mostly Attic vases from the Protogeometric and Geometric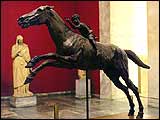 period, Orientalising pottery, Corinthian and Attic vases of the Black Figured style and Attic vases of the Red Figure style.
Sculpture: Daedalic sculptures, bronze statues (male and female figures) of the Classical and Hellenistic period as well as Roman sculptures, Portraits of the Classical, Hellenistic and Roman periods, relief and sarcophagi.
Metalwork and Miniature Arts The Karapanos' collection forms the core of the exhibits located in the east wing. There are finds from the oracle at Dodona and three rooms with Roman sculptures and Egyptian works.
Gold Objects The finest and most rare specimens are contained in the Heleni Sthathatos collection of necklaces, earrings etc.