Map of Zakynthos
Outline map of Greece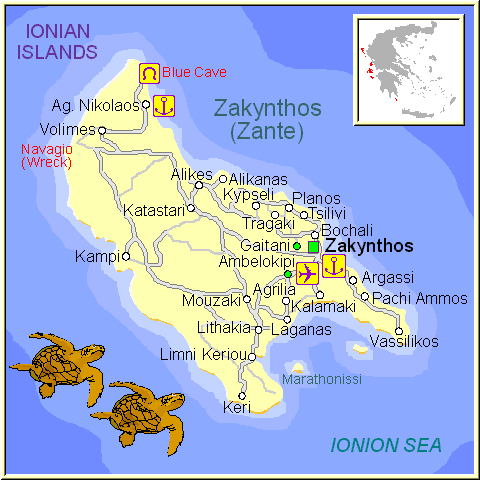 City:(Zakynthos)
Zakynthos, the Island that "Could Make One Forget the Elysian Fields"
"The East Flower", the Venetians used to call Zakynthos. It's also been called "Little Paris" and "Greek Florence".
Does Zakynthos deserve all this attention? Definitely.
View the main-land from the Venetian Kastro! Visit one of the many bars and discos that ensure the nightlife continues till dawn! Take a swim at the ravishing Shipwreck Beach! See the Blue Caves, unusually beautiful, formed by the water of the sea eternally hitting the rocks and 'eating' them. Visit Akrotiri, Tsilivi, Alykes, only a few of the tourist resorts! Discover Zakynthos your-self, for whatever one might tell you will not be enough unless you witness the place that Solomos, Greek poet, wrote could make one forget paradise.