Map of Thessaloniki
Outline map of Greece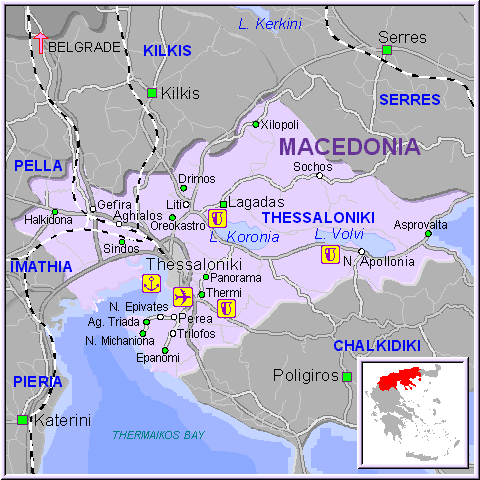 City:(Thessaloniki)
Thessaloniki, the Capital of Culture and Beauty
Named after Alexander the Greatís half-sister, Thessaloniki is Greeceís second city, also known as the co-capital, a cosmopolitan city with its own unique character. The first thing you will perhaps notice is the White Tower, also known as Bloody Tower due to the 1826 massacre that took place within it, which is Thessalonikiís symbol and prominent landmark. But thatís only the tip of the iceberg! Thessaloniki is a city of museums, of pilgrim, of culture and history. Letís take them one by one, shall we?
Museums: Thessaloniki has ten of them, one greater than the other. Pilgrim: the famous and ravishing church of Agia Sofia as well as Agios Dimitrios, the largest church in Greece, are only two of the churches Thessaloniki has.
Culture: the Aristoteleian University, the National Theatre, the Cinema Club, the Concert Hall, theyíre only examples.
History: the Old Town, where time has stopped, the archaeological site of Toumba, the Ancient Forum.
Finally, do you want an extra? Just taste the famous bougatsa delicacy you will find in special stores in just about every corner. All these will make Thessaloniki unforgettable.