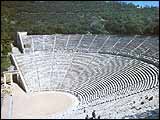 The Sanctuary of Asklepeios, dedicated to the healer god Asklepeios, was formed mainly during the 3rd and 4th BC, and used to serve as a healing centre as well as a religious centre. There are many architectural monuments in the area such as the Temple of Apollo Maleata (where the faithful washed their hands and made their first sacrifice), the Tholon (a place of worship), the Avaton (where patients would spend the night seeing visions of Asklepeios in their dreams and thus become cured). Outside the enclosure stood the dwellings of the priests, the doctors, a gymnasium, baths etc.
On a hillside within the sanctuary, lies the theatre of Epidaurus built in around 3rd c. BC by Polykleitos the Younger. It is the best preserved of all the ancient theatres in Greece, with capacity of 14.000 seats and possesses incomparable acoustics.
For centuries the monument remained covered, until 1881 where excavations started under the direction of P.Kavvadias. Large-scale works were undertaken from 1954 to 1963 for the reconstruction of the destroyed sections and partial restoration of the monument. In summer the theatre becomes alive, it presents theatrical performances of great ancient Greek dramatists as Aeschylus, Sophocles, Aristophanes and others.