Lesvos is the third largest island of Greece and is situated in the northeastern part of the Aegean Sea across the coast of Asia Minor. The island is big enough to satisfy every visitor's needs, from exciting and lively nightlife and crowded beaches to calm vacations and sightseeing excursions. Its history goes back for 3.000 years. It has been the birthplace of famous people in antiquity such as the poets Alcaeos and Sappho from Eressos, the guitarist and poet Arion from Mythimna, the great musician and creator of the choral poetry Terpandros born in Antissa, and Pittacus one of the seven wise men of ancient Greece. In the modern times the tradition of Mytilini being the birthplace of famous person continuous. The most eminent of whom are Odysseus Elytis and the popular painter Theofilos. Mytilene is the capital of the island and also the getaway to all of Lesvos beautiful villages.

Mytilene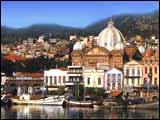 Mytilene the capital of the island is built amphitheatrically around its well-preserved Byzantine Castle. The city of Mytilene has an interesting Archaeological Museum with a collection of findings of all eras as well as the Popular Lesvos Art Museum and its Library. The most important churches are the 17th century Saint Athanasios cathedral with the Gothic style steeple, Saint Symeon and Saint Therapontas and several others. In front of Saint Therapontas church is the main shopping street with a variety of shops. The waterfront of the old harbour is the perfect place to relax, at one of the numerous cafes and taverns. In the northwestern hill of the city there are ruins of a Hellenistic theatre (300 - 100 BC) of excellent architectural construction worth visiting. Makrigialos situated on the southern side of the town is the most picturesque side of Mytilene due to its wonderful buildings of traditional and modern style, the landscape and the yachting club. At the suburb of Varia, the birthplace of the naïve folk artist Theophilos, the Theophilos museum is worth a visit. It exhibits 86 works of the artist that were saved. Near the town of Moria one can visit the Roman Aqueduct built in the 2nd century AD.

Villages


Lesvos has many beautiful villages most of which have retained their traditional character. At the east there is Skala Sikaminias a small fishing village worth visiting. Around its harbour there are some taverns from where you can enjoy the view. On a small rock overlooking the harbour is the church of Panayia Gorgona.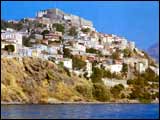 Mithymna (or Molyvos) the picturesque village situated at the northeast part of the island with its medieval castle and the traditional architecture is the best-known resort on the island. Kalloni a modern town of Lesvos situated at the centre of the island. Kalloni is famous for its sardines caught in the Gulf of Kalloni, where Skala Kallonis a popular summer resort is situated. In the winter and early spring, you can often see flamingos in the shallows around the gulf of Kalloni.
Eressos is also situated near Sigri. Eressos is the birthplace of the lyric poetess Sappho. Its port Skala Eressou is a famous resort with a magnificent beach.

Beaches


Some of the most beautiful beaches on the island are Thermi, Skala Eressou an extended sandy beach with crystal clear blue water, Sigri with its small quite beaches, Vatera with a beach 8km long with pure crystal waters, Petra a quite nice sandy beach, Skala Sikaminias, Eftalou a beach with pebbles and crystal clear waters, Skala Kallonis and Palaiokastro.

How to get there


By air: from Athens and from Thessaloniki By Ferry: from Piraeus and from Thessaloniki.