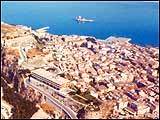 Nafplio is situated in Argolid, which in ancient times was considered to be the center of Greece. Nafplio is divided into the old city with its neoclassic buildings, picturesque streets, Turkish fountains and Constitution Square and the new town, an ordinary Greek town, with no special assets, which was the capital of the newly formed Greek state from 1828 to 1834, when this role passed to Athens. Nafplio is an important tourism centre since the first decades of the century. It is a colourful town with culture, history and natural beauty, providing modern accommodation and entertainment to its visitors. On the waterfront there are numerous cafeterias one next to the other while in the alleys of the old or the new town there are also various restaurants and taverns to choose from. While your stay in Nafplio you must visit the Venetian fortress of Palamidi, which crowns the city, Bourtzi the fortified islet as well as the Archaeological and the Folk Art Museum.

Palamidi


The Venetian fortress of Palamidi crowns the city of Nafplio. The engineers La Salle and Giaxich constructed the Venetian fortress in the early 18th c, on the top of a hill at an altitude of 216m. It changed hands several times and after Greece's liberation, Palamidi was used as a prison. Theodore Kolokotronis the hero of the Greek revolution was also held here. Inside the bastion of Saint Andrew lies the homonymous church, built in Venetian times. You can either choose to get there on foot meaning that you climb up more or less a thousand steps, or else rich the Venetian Castle by vehicle.

Bourtzi

A small island situated at the entrance of the port, 450 meters from the land. In 1473 it was fortified by the Venetians and along with Acronafplia served for preventing the enemy entering the port. It served as a fortress until 1865. It then transformed into residence of the hangmen who executed the convicts in Palamidi. It also operated as a hotel for a time. In our days occasionally, cultural events take place there.

Restaurants


Vassilis: A traditional tavern with good Greek food and grills
Arapakos: Fish and Greek cooking in a neo-classical building with view on the port.
Stelaras: A picturesque tavern with fish and Greek cuisine.
Ta Fanaria: A charming tavern with good food.
Ellas: The oldest restaurant in Nafplio offering Greek specialties.