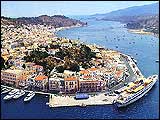 Poros a beautiful green island, laying at the southwest of the Saronic Gulf and opposite to Argolid in Peloponnese. Poros consists of two smaller islands, connected by a bridge, Sferia, a small rocky island and Kalavria, a larger and lusher island with green hills and beautiful coastlines. Its main town and port of the island is built in amphitheatre form on the slopes of a hill. Along the port there are a lot of cafeterias, restaurants, tourist shops and many bars with foreign or Greek music. At the center of the town is worth visiting the Archaeological museum and the island's trademark the "clock-tower". Do visit the famous lemon forest which stands opposite on the coast of the Peloponnese and the temple of Poseidon.

Temple of Poseidon


It was built in Doric style around the 6th century. Systematic excavations started by the Swedish archaeologist S.Wide and L.Kjellberg. Today a few remains of the temple are left.

The Lemon Forest


A big area full of Lemon trees, there is said to be over 30.000 lemon trees in the forest, with lots of waters and water mills. A walk through ends up at a traditional Greek tavern.



Clock Tower


The first thing that you see as you approach Poros from Piraeus. It is nice but difficult to climb up to the tower, but once you have reached the top you can enjoy the beautiful view over the neighborhood.
Beaches


Kanali: A beautiful sandy beach with shallow waters, very good for families who have children. It has very good fish taverns by the sea with a wonderful view to the open sea. Askeli: The widest beach on the island. It is an organized beach with water sports, shops, restaurants and taverns and interesting nightlife. Monastery: A quiet beach with clear waters and traditional Greek taverns. Neorion bay: A lovely sandy, organized beach where the pine trees reach the sea. Water sports facilities and restaurants are available. Love bay: A sandy beach outside and rocky inside. Here you can enjoy the green from the pine trees and the clear blue waters.