Skiathos is the most popular of the Sporades group and the birthplace of Papadiamantis, one of the most important writers of the Greek literature. It is a green island with forests; abundant water and at least 60 large and small fine beaches, which stretch all along the south-facing coast. Skiathos town the capital and the main port of the island, offers a busy cosmopolitan life, numerous local taverns, ouzeris and cafes located at the harbour. During the day you can wonder around the small alleys and visit the small peninsula Bourtzi. Don't miss to visit Kastro, Skiatho's most notable monument.
Skiathos town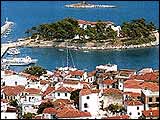 Skiathos town is the only built up area of the Island. It is a relatively new settlement built amphitheatrically, spread out on the sides of two hills. Its houses are traditional, with white painted walls and red roofs. As most of the Greek island, Skiathos has narrow back streets waiting for exploration; nevertheless much of the town's life is on the waterfront.

Bourtzi


Bourtzi is a small peninsula, which divides the harbour into two. On it, the Ghizi family built the Venetian fortress in 1207. The fort was destroyed in 1600 when the admiral Francesco Morozini occupied the island. From the present ruins of the forts will transfer you in past periods.

Beaches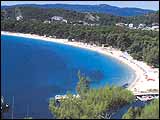 Koukounaries: The most famous beach of the island and Greece. The beach is 1km long with golden fine grain sand, crystal clear water and thick-growing pine tress behind it. It attracts many visitors especially during August and is organized with water sports and umbrellas. Lalaria: Famous beach with large pebbles, blue-green waters, accessible only by boat form the town. Take with you food and water because there is nothing there. Banana: A sandy beach with clear waters. It is organized with umbrellas and offers water sports facilities; there are also a few taverns available by the beach. Tsougria: Agia Eleni: Organized sand beach with turquoise seas against a lush green background.

Restaurants


Karnagio: The Island's best restaurant in a traditional house, with friendly atmosphere. It traditional cuisine, it serves fish dishes and lobster, anchovy fillets and avocado cocktails. Asprolithos: Local specialties and fresh seafood, served in a pleasant surrounding. Gerania: It serves Greek and international dishes. Stamatis: Greek cooking, fresh fish and variety of hors d'oeuvre.

How to get there


By air: from the Eleutherios Venizelos airport of Athens By ferry: from Volos to Skiathos and from Agios Konstantinos.